Colonial Garden
at the Sands-Willets House
The Cow Neck Peninsula Historical Society has restored and reinvented the beautiful garden path and garden behind the historic Sands-Willets House, once christened the Rose Grumman Garden.
This new effort was led by Trustee Betty Mintz, a team of dedicated volunteers, and Dylan Hass, owner of Sundown Tree & Lawn Care. The foundation was laid in the Fall of 2016, with more work throughout 2017. In the Spring of 2018 we started planting!
​
Loving friends of the Society sponsored three Memorial Benches, which were installed in the memory of dear loved ones, who truly would have cherished the new garden.
Read the inscriptions here.
Fall 2016: Trustee Betty Mintz discusses the plans for the Spring 2017 planting.
Shown from left to right are Fred Hehn (Trustee), Ken Buettner (Trustee), Marla Freeman (VP), Laura Curran (County Executive), Chris Bain (President), Betty Mintz (Trustee, Garden Designer), Joan Lager (Curator), Brandie Kayser-Shaw (Trustee).
On October 20, 2018 we were honored to have County Executive Laura Curran stop by our Fall Country Fair for the official ribbon cutting, officially opening the new Colonial Garden.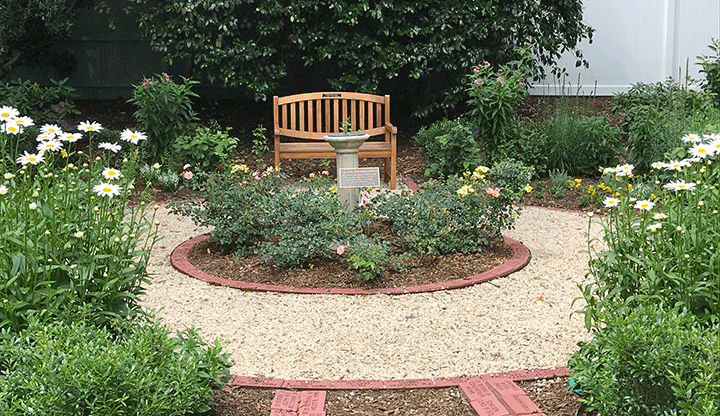 The colonial garden in full bloom, spring 2019.